D'Artagnan Leather Pants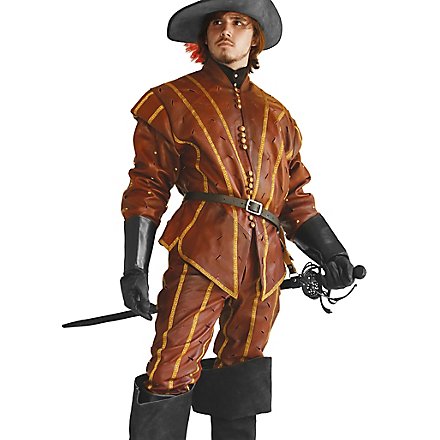 Elegant Musketeer Pants for LARP and reenactment
Especially during the Renaissance period, a gentleman in the service of His Majesty had to make sure he was setting – or at least following – the latest trends in court fashion. Of course his garb had to be easy to put on and camouflage all signs of wear, but above all, it had to look good.
Every knightly swordsman would have looked enviously at the gentleman wearing our noble, brown leather breeches handsomely accented with gold trim. Diagonal slashes in the robust leather make these breeches breathable. The button and leather lacing at the front can be adjusted to fit your figure, and the breeches come with buckles. The 3/4-length legs tie below the knees.
Material:

Genuine leather
You may also like:
Leather gloves - Tristan
Trousers
49,90 €
-20%
Musketeer
Trousers
19,90 €
24,90 €
Leather jerkin - D'Artagnan
Trousers
249,00 €
Velvet Pants "King Henry VIII"
Trousers
89,90 €
-14%
Knight's Shirt black-silver
Trousers
59,90 €
69,90 €
Suede boots - Hawkeye
Trousers
99,90 €
-12%
Gauntlets - Elves, dark brown
Trousers
149,00 €
169,90 €
-23%
Velvet Doublet "King Henry VIII"
Trousers
99,90 €
129,90 €
Gambeson - Erwin
Trousers
99,90 €
back to top