Double bladed axe - Vanaheim foam weapon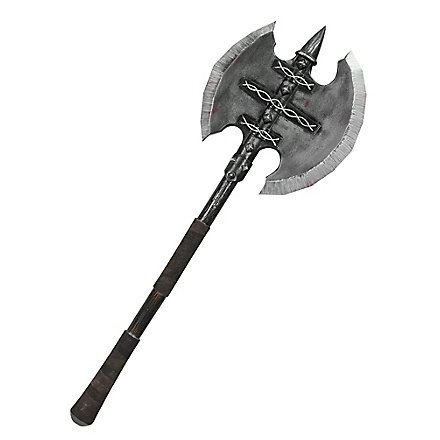 Original Age of Conan Vanaheim Double Headed Battle Axe Foam Weapon.
This stately original Age of Conan Vanaheim double headed Battle axe foam weapon is terribly beautiful. The double blade looks as if it was forged by hand from tempered steel. This safe LARP weapon is actually made of soft latex foam that covers the fiberglass rod at its core. The spike at the top allows you to use this axe for more fighting tactics than a double headed battle axe already accommodates. Latex and a sealing coat make sure that this original Age of Conan Vanaheim double headed battle axe foam weapon has a long service life. The handle is wrapped with suede in two places for increased comfort and control.
Total length: approx. 102 cm
Material:

Fiberglass core, PE foam with latex layer, flexible paint coating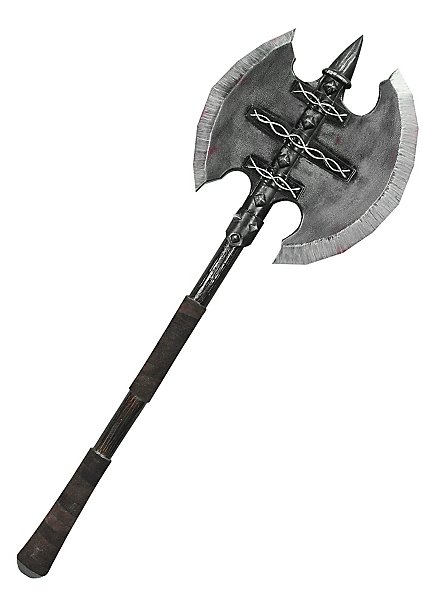 You may also like:
War axe - Stygia
Larp Weapons
59,90 €
Leather gloves - Tristan
Larp Weapons
49,90 €
Tunic - Ulfred, grey
Larp Weapons
74,90 €
-38%
Devil Deluxe Mask Kit
Larp Weapons
49,90 €
79,90 €
Leather Axe Holder
Larp Weapons
19,90 €
-17%
Orc Deluxe Kit
Larp Weapons
49,90 €
59,90 €
Devil Claws
Larp Weapons
49,90 €
War axe - Octa
Larp Weapons
59,90 €
-43%
Theatre Blood
Larp Weapons
3,90 €
6,90 €
Make-Up Foundation green
Larp Weapons
3,90 €
Bottle of Fake Blood
Larp Weapons
16,90 €
Bite & Bleed Blood Capsules
Larp Weapons
4,90 €
Kryolan Fixation Lacquer
Larp Weapons
16,90 €
Belt Pouch - Traveller black
Larp Weapons
19,90 €
Trophy Chain
Larp Weapons
12,90 €
Werewolf Snout
Larp Weapons
16,90 €
Hair Spray Gold
Larp Weapons
2,90 €
back to top