Red Belt - Crusader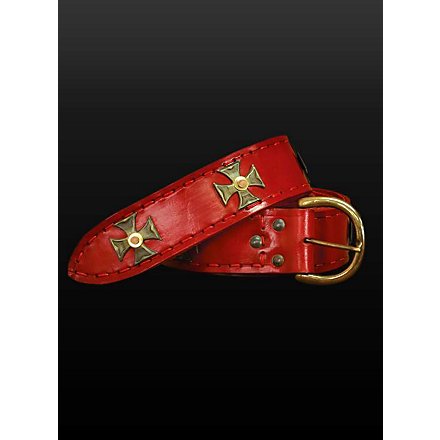 Material:

Genuine leather
Due to its extreme length, this medieval leather belt is a historically accurate complement to most tunics, long shirts, and surcoats. It can even be combined with a sword frog. Our red belt with Maltese cross ornamentation has a total length of approx. 178 cm. Its unusually long length can be explained by the way they used to fasten their belts in the Middle Ages. After buckling the belt at the front, as a rule a loop was firmly knotted around the buckle. The resulting belt end would be left to hang down the center. This belt is made of genuine, red leather, is five centimeters wide, and is decorated with Maltese crosses made of brass.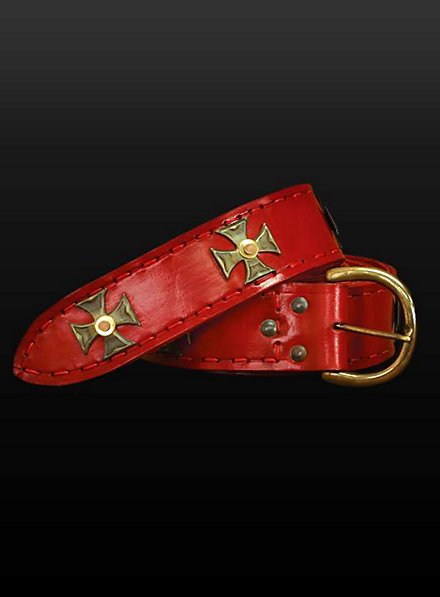 You may also like:
Suede Leather Gloves burgundy
Belts
29,90 €
Sword frog - Ranger
Belts
19,90 €
Bracers - Hadubrand brown
Belts
24,90 €
Belt - Enzio
Belts
89,90 €
Belt Pouch - Traveller black
Belts
19,90 €
-11%
Crusader's Belt Blue
Belts
79,90 €
89,90 €
Suede Gauntlets white
Belts
29,90 €
Shirt - Charles
Belts
34,90 €
-8%
Monk's habit - Dominus, red
Belts
119,00 €
129,00 €
Medieval Quiver red-black
Belts
79,90 €
Head and helmet band
Belts
29,90 €
Tunic "Templar"
Belts
89,90 €
Tunic "Crusader"
Belts
99,90 €
Cape - Templar
Belts
149,00 €
Gambeson -Tiberias
Belts
79,90 €
back to top