Tabard - Teutonic knights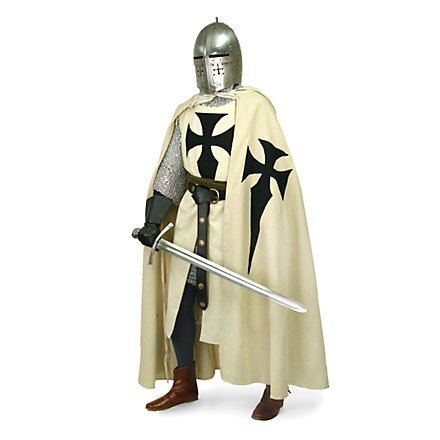 Surcoat, 2-piece
With surcoat
With woolen belt
Without any other costume pieces or accessories shown
All crusaders are not alike, especially on the outside. This is probably because a knight of the cross could belong to one of several orders – each of which had its own colors and devices. Our Teutonic Knight's Tunic is a battle surcoat of unbleached, 100 percent cotton with a large Teutonic cross on its chest. The surcoat has a slit at the front and the back below the hips, so you can also wear it when you're riding a horse. A matching belt made of braided wool loosely keeps the tunic together. A tunic to wear over plate armor or a mail shirt, like one that may have been worn at the Battle of Grunwald.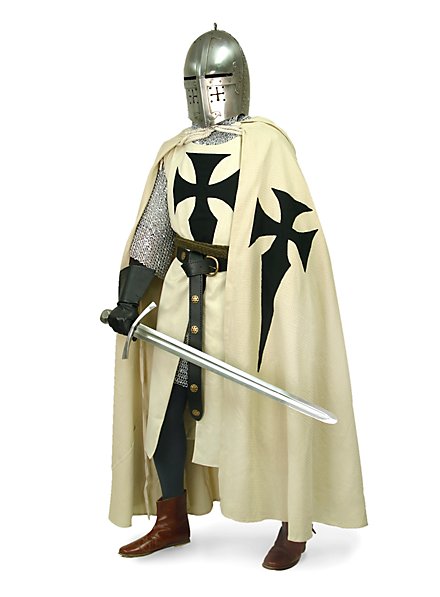 You may also like:
Coin Pouch - Pfifferling light brown
Tabards
9,90 €
Coat of arms - Silver tree
Tabards
109,00 €
Medieval double wrap sword belt
Tabards
54,90 €
Belt - Jedermann brown
Tabards
34,90 €
Crest black
Tabards
34,90 €
Tabard - Ibelin
Tabards
89,90 €
King Richard Lionheart Surcoat
Tabards
89,90 €
Knightly Riding Cape white-black
Tabards
64,90 €
Cape - Teutonic Knights
Tabards
99,90 €
Leather gloves - Tristan
Tabards
49,90 €
-5%
Great Helm "Crusader"
Tabards
219,00 €
229,90 €
-33%
Adventurers Boots brown
Tabards
from 79,90 €
119,00 €
back to top