Customizing leather armour

There are few Larp characters who only wear their leather armour purely for decoration. Leather armour provides decent protection in combat; worn for days on end by warriors, orcs and elves alike. Rangers too roam long through the woods in their leather armour, for them armour is an important tool, a loyal companion on every quest. Orcs by nature, don't care about the condition of their leather armour, it soon becomes tattered, rotten and stained with the blood of their enemies. Elves through their spirituality are inclined to decorate their leather armour, its often seen decorated with protective runes or talismans.
The aging process for leather armour is one that requires frequent use, but even the most active larpers will only wear their armour for a few weeks a year. In order to get the look of battle hardened armour, a few extra steps are required to give you the desired look.
Our Andracor leather armour can be customized in many different ways. In this article we will show you how to make your leather armour truly unique.
In order to customize your leather armour properly, it's necessary to know the type you're working with. To get to know our leather products better, check out our 'caring for leather products' article.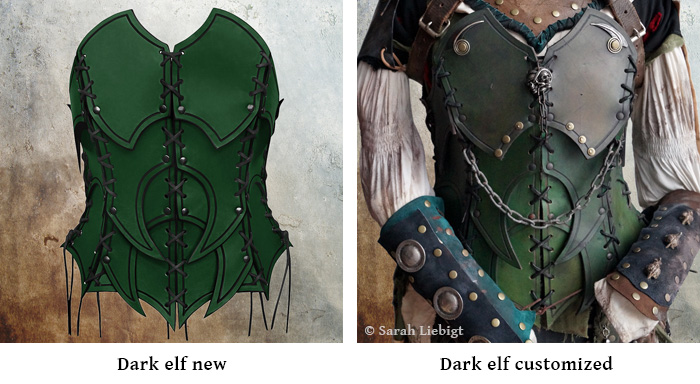 Want a little colour? Colouring and dyeing leather armour
In order to dye your leather armour over a larger area, you need to use specialist leather dye (ensure you read the instructions before use). Therefore our Andracor armour is already available in black, brown, green and red.
To darken parts of the armour, you can use antique finish (please read the instructions for use here as well), which can be bought in specialist craft shops. When diluted with water, it can be applied to the leather and quickly wiped off again with kitchen roll until the effect looks right. You should try it out at first on a test piece or an inconspicuous area to see how the effects will look, otherwise the armour can quickly become too dark. However if the leather armor is exposed to sunlight for an extended period of time, it can become brighter again.
Small bright spots can also be darkened with a good permanent marker or acrylic paint. But this should first be tested on inconspicuous areas.
Warning: Coloured varnish is not suitable for leather as it resists movement and as leather is a flexible material, the varnish would crack and chip off. There are special varnishes available, again from specialist craft shops, that are well suited for use on leather.

Used Look – How is it done right?
Natural signs of use and wear only appear over time. To give a new piece of leather the 'used look', you can add scratches and scuffs. This is done by rubbing the leather armour or accessories on concrete or stone floors, roughening the surface of the leather. You can also use sandpaper to do this. To finish the look, after roughening the surface of the leather, you can then press it into a lawn or grassy area, in order to get dirt into the scratches, to truly achieve the battle worn look. You can also allow the leather to become worn of its own accord, but from our own Andracor experience, we have seen this to be time consuming and ineffective.
Warning: If you're using sandpaper to roughen the armour leather, be mindful that this can also erode the colour from the surface!
You can also fold and bend the leather with your hands to create natural creases. The tip of a carpenter's hammer can also be used to create the effect of incisions from arrow shots.
To indent the armour with nicks and cuts, you can use a linoleum knife. However the indentations must then be dyed, either with leather stain or specialist leather colouring, as the surface of leather will be permanently scratched. For black and brown leathers, shoe polish can be used for this. To remove corners or larger pieces from the leather, use a sharp leather knife and work carefully.
Extra tip: If you're intending to make large adjustments to the leather, we recommend buying good quality tools. Specialist leather shops online are the best way to go.
For ugly specks and greasy stains, rub your leather with grease or oil. The oil will then seep deep into leather and darken it, creating stains. Artificial blood can also be used to create the effect of blood stains.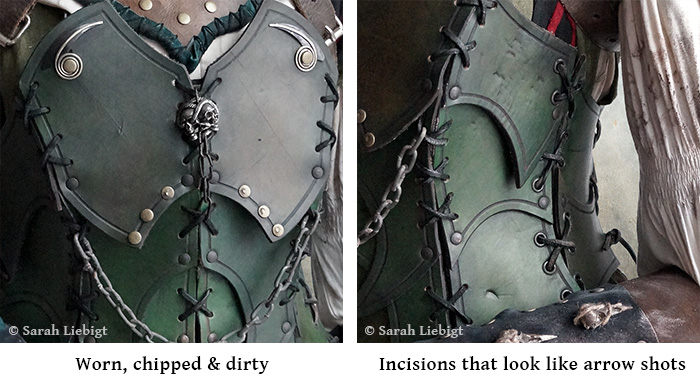 How and with what can I decorate my leather armour?
If you want to apply decorations, it is best to use adhesive glue (available at DIY stores; make sure you follow the instructions!). Other glues are not as flexible and decorations will fall off. Adhesive can be used to attach decorative stones, upholstery or latex applications.
But there are also classical and traditional ways to decorate your armour, for example through the art of hallmarking.  Here a pattern is embossed using a leather punch, which are available in a variety of unique designs online.
You can also punch in decorative rivets yourself, or stud the edges of the armour and fix leather straps under them. When punched with a pair of pliers, even thick seams and lacing thread can be pulled through the leather.
There are virtually no limits to creativity, as this dark elf corsage by Sarah Liebigt, impressively transformed into "Undead Flesh" armour, shows: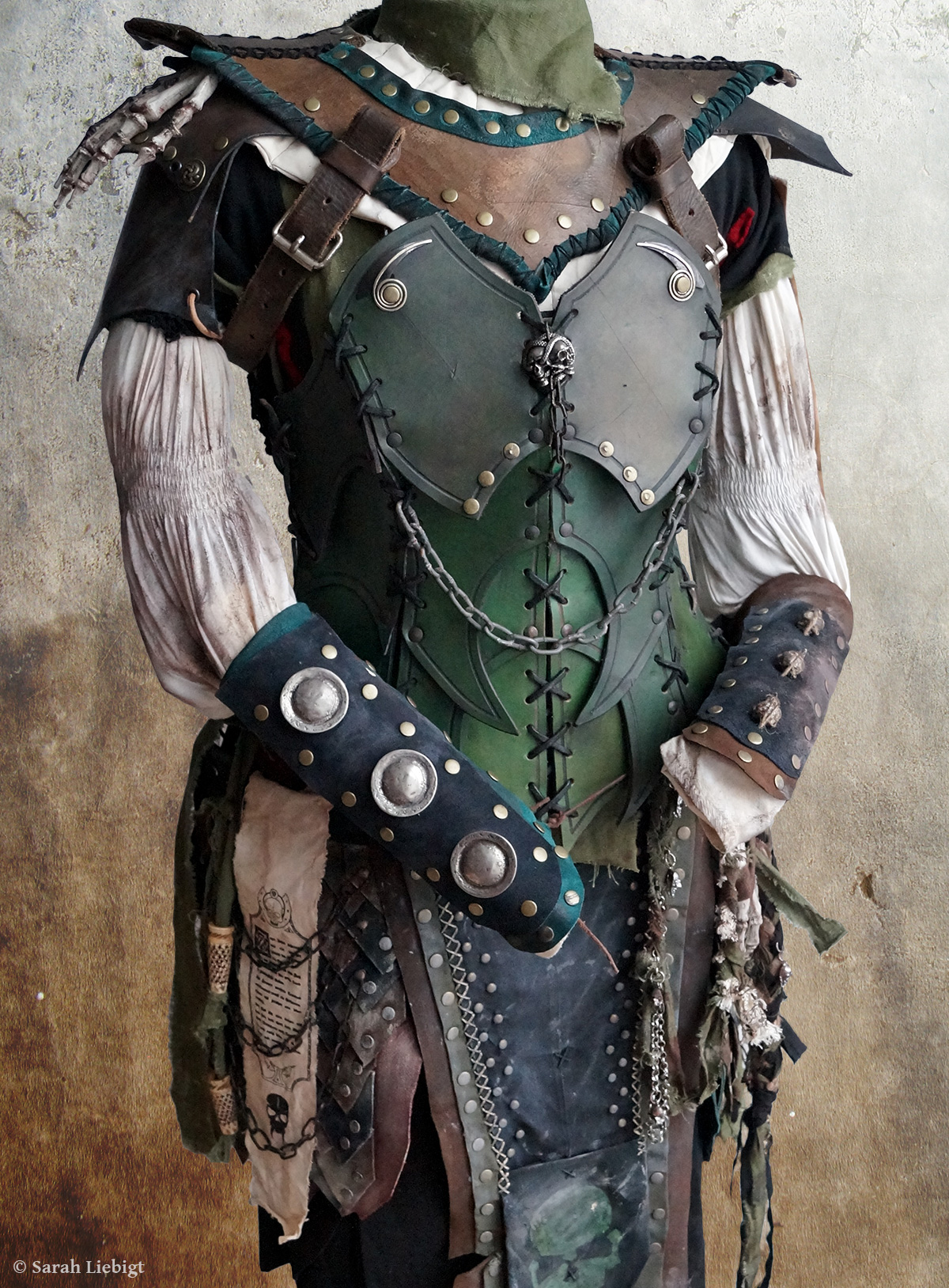 Customization directly from Andracor
We also offer the possibility to order custom-made products, for example:
Made to measure armour

Special colours

Decorative elements on the armour

Special patterns on the armour

In some cases unique armour designs

If you are interested in custom-made armour, you can get a quote for your ideas from our support hotline. Just call us at:  +49 (0)30 – 400 446 50 (Mon-Fri 9:00-17:00)
We look forward to hearing your ideas!
For all other questions about our leather products, we are available via our support hotline or through Facebook.
Have fun tinkering,
Your team from Andracor
back to top